Las Vegas, NV - January 8th, 2014 - MTX Audio, of the MiTek Electronics and Communications Group, today announced a partnership making MTX the official audio company of Margaritaville.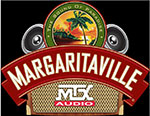 Margaritaville is one of the most recognizable names in the world today. For 40 years MTX has been engineering and building high performance audio solutions that also have been bringing life to parties, whether in your car, in your home, or on your boat. This new partnership has created a musical concoction that helps Margaritaville fans and other audio enthusiasts escape to an island state of mind accompanied by the music they love.
"MTX and Margaritaville are synonymous with having fun and enjoying life", said MTX Audio Founder & CEO Loyd Ivey. "Everyone enjoys listening to music when they are with their friends and having a good time, especially when they are on "island time", which the Margaritaville brand epitomizes. We are really excited to be working with such an awesome brand that shares our values; deliver a well-made, high quality product that customers can enjoy wherever they go."
John Cohlan, CEO of Margaritaville commented, "Margaritaville is an American anthem that celebrates summer. Music is at the heart of our brand and the partnership with MTX provides our consumers the opportunity to escape to paradise with their very own soundtrack".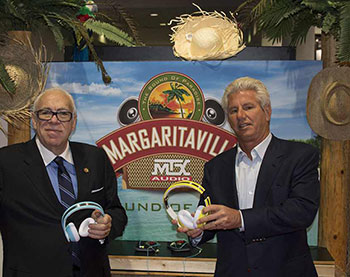 MTX Audio Founder Loyd Ivey with Margaritaville CEO John Cohlan
The first products to be released under this new agreement include both on ear and in ear acoustic monitors designed in "island" colors that let Margaritaville fans listen to their favorite music on the go from any audio device. These Margaritaville headphones include a custom carrying case and feature a made for Apple® mic/remote. Margaritaville headphones will be available second quarter 2014.
Full details regarding these new products and other new solutions from MTX will be available at the MiTek Corporation booth at CES 2014, Grand Lobby booth# GL-3 and North Hall booth# 2402. You can also contact MTX Audio directly at 1-800-CALL-MTX (225-5689).
FOR MORE INFORMATION, please contact:
Joe Trentacoste
MiTek Corporation&nbsp
Office: 602.438.4545
Mobile: 480.560.5713
joe.trentacoste@mitekusa.com
To learn more about MTX or to become a part of the Cloud Commerce revolution visit mtx.com or email dealersupport@mtx.com.
ABOUT MTX AUDIO
MTX Audio is a family-owned, American manufacturer of high-performance car, marine, home, and street audio products. MTX is one of the leading companies in the mobile audio industry and builds innovative and easy to install products for the audio specialty dealers and consumers who are truly "serious about sound".® For the latest news and information, please visit www.mtx.com.
##