MTX Audio, the leader in high performance mobile, home, marine, and portable audio solutions, announced today thethe release of several new vehicle specific custom subwoofer enclosure, ThunderForm, models. The three new models are designed to fit Ford Escape model years 2008-2013, Ford Flex model years 2009-2013, Honda Civic Sedan model years 2006-2013, Hyundai Elantra model years 2011-2013, and Jeep Wrangler JK 4-Door model years 2007-2013. MTX vehicle specific custom enclosures are designed to offer audio enthusiasts a custom fit subwoofer solution that minimizes the space in their vehicle required for installation.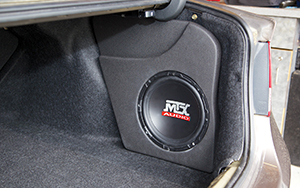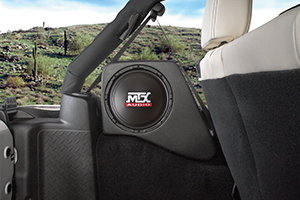 These new models are examples of MTX's commitment to delivering complete solutions. Each model ThunderForm is available in both amplified, loaded, or unloaded configurations providing consumers a choice based on their needs. The amplified versions include an integrated amplifier and single subwoofer, the loaded versions include a single 4Ω subwoofer that works with any matching amplifier, and the unloaded version does not include a subwoofer allowing the enthusiast to use the subwoofer of their choice. Each model ships with all installation hardware and are designed to be installed in otherwise unused vehicle locations.
2008-2013 Ford Escape

2009-2013 Ford Flex

2006-2013 Honda Civic Sedan

2011-2013 Hyundai Elantra
2007-2013 Jeep Wranger JK 4-Door
All models are available and currently on sale with free shipping at MTX.com or through one of MTX's authorized dealers.