The "#MTXSLINGSHOT", custom Polaris Slingshot built by yours truly, MTX Audio, debuted in January 2015 at the International Consumer Electronics Show (CES) in Las Vegas, Nevada. In its completely stock form, the Slingshot is already an impressive looking three-wheeled vehicle that is unlike anything else in the market today. But when we got our hands on this beast, #MTXSLINGSHOT by MTX Audio quickly became the most talked about Slingshot to date and set the bar for all custom Slingshot builds of the future.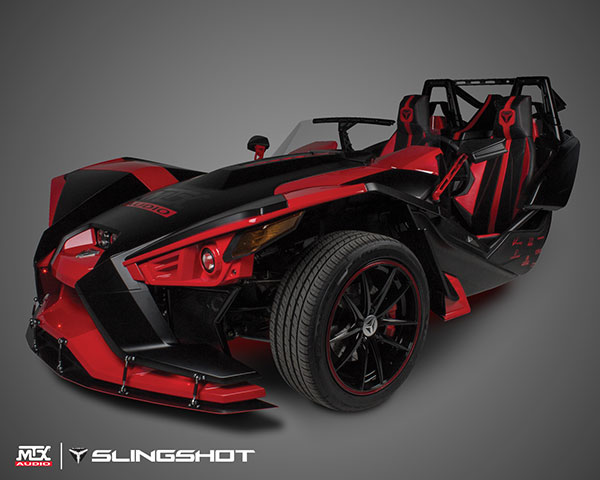 Click for larger image
The Polaris Slingshot is able to pull almost 1G into a corner. If you don't know what that means, it's crazy fast and can hold its line thru turns as if it is stuck to the road with Velcro. This machine moves!
The audio system was built to deliver the same kind of exhilarating performance as the driving experience. A 1500-watt RMS, XTHUNDER1500.1 amplifier driving 75 Series 12" subwoofers installed behind each seat ensure the driver and passenger can feel their music as well as hear it.
Additionally, two MUD100.2 amplifiers, each driving the three-way Signature Series component speakers in the custom kick panels, are also being controlled by an Apple® iPad® mini mounted in the custom fabricated dash panel and powered by XS Power® batteries.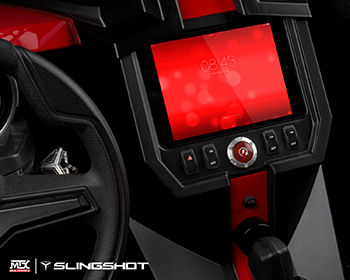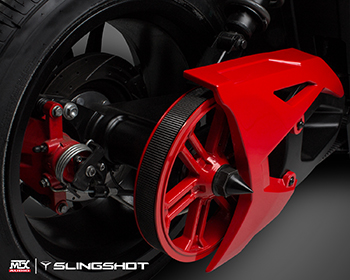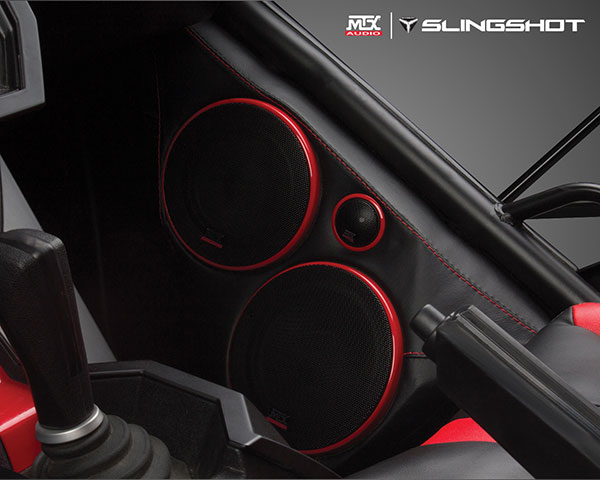 Two 100-watt RMS MTX MUD100.2 Amplifiers, each driving three-way MTX Signature Series Component Speakers
The #MTXSLINGSHOT exterior is finished in a flat black and gloss red custom paint scheme. An aluminum front air splitter was fabricated from scratch and powder coated black before mounting to the vehicle using fully adjustable turnbuckles. Additionally, custom aluminum trim accents were added to the frameless windshield. All three brake calipers, the swingarm, and the drive belt pulley were powder coated and the factory rotors were cross-drilled and slotted.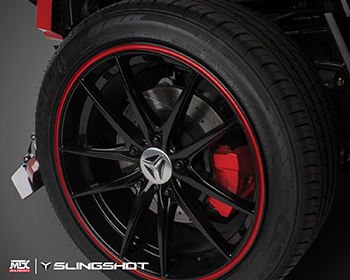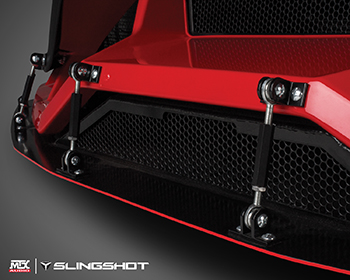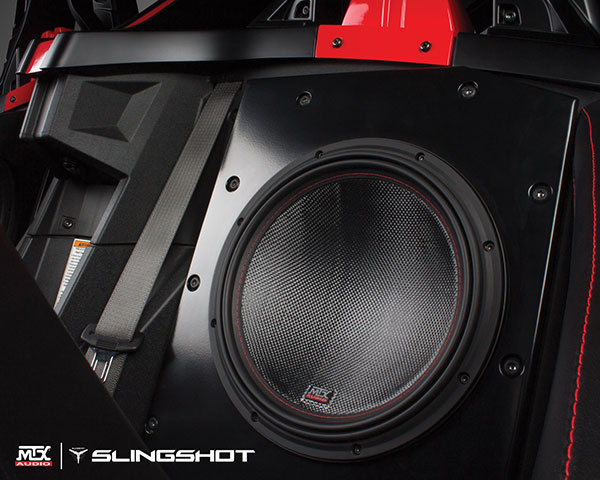 A 1500-watt RMS, MTX XTHUNDER1500.1 Amplifier driving two MTX 75 Series 12" Subwoofers
The interior is exposed in this open cockpit vehicle, so underwent a total overhaul to continue the black and red theme with custom upholstered seats with embroidered Slingshot® logos in each headrest. The side bolsters and custom kick panel pods that house the Signature Series three-way component systems are wrapped in black leather with red accent stitching at the seams. Additionally, Konig® Wheels with a custom painted red accent ring are wrapped in Toyo® Tires, and Varad® LED's accenting the blood red scheme of this one of a kind vehicle.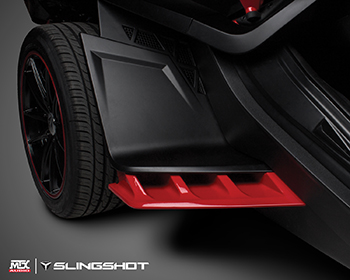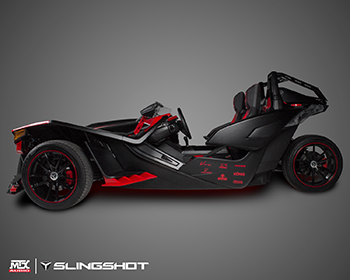 ---
Jason Planck Heads MTX Audio Custom Polaris Slingshot Project: #MTXSLINGSHOT
Jason Planck, MTX Rapid Development Manager (driver's seat) and Alan Cross, MTX Acoustical Engineer at CES2015.
---
The Polaris Slingshot
---
#MTXSLINGSHOT Under Construction at MTX...