PHOENIX, AZ APRIL 25, 2014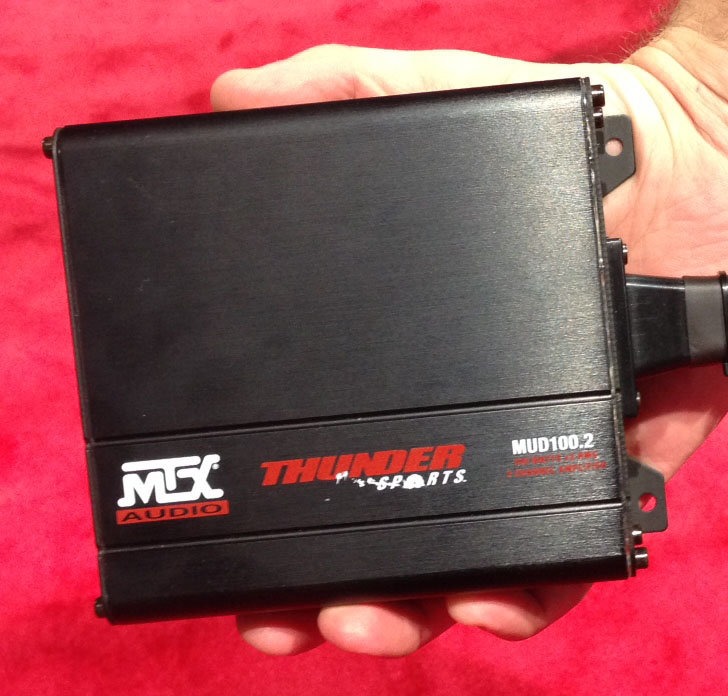 MTX Audio, leading manufacturer of high performance car, home, marine, ATV/UTV, and personal audio for 40 years, today announced the release of the new MUD100.2 All-Weather ATV/UTV amplifier, which debuted at the 2014 International Consumer Electronics Show in January 2014.
The MUD100.2 is the first amplifier from MTX designed for multiple installation environments. The unit can be installed and run in a standard car or truck very easily with its small chassis design and easy connections, but this unit really shines in motorcycle, marine, and UTV off-road vehicle installations where durability and size are major concerns.
The MUD100.2 is a 2-channel amplifier that features a full range class D circuit to deliver 100 watts RMS power per channel at 2-Ohms. The unit is only 4.65" x 5.71" x 1.61", making it the smallest amplifier in the MTX product line. The entire chassis is sealed and the circuit board is conformal coated ensuring that moisture will not damage critical components. All connections are made using the integrated "pig tail" that includes the power and ground wire as well as both high and low level connections making it easy to connect to a source in any vehicle. A selectable high pass or low pass filter allow operation with both full range speakers as well as subwoofers based on the installation need.
"We have had customers contacting us for the last two years looking for an amplifier that can survive wherever they install it with the performance and power they expect from MTX", said National Sales Manager Jason Fickas. "Our engineers have done an outstanding job putting together an amplifier that can withstand the elements and is easy to install on any type vehicle especially motorcycles and UTV's. Having solutions like this allow us to service a broader spectrum of customers looking for a way to get the best possible sound quality wherever they go.

The MUD100.2 is available at mtx.com or other MTX authorized Advantage Dealers or Dealer Affiliates.
See our MTX MUD Amplifier...