MAVERICK & COMMANDER SPECIFIC SUBWOOFER ENCLOSURES
October 26th, 2016 - MTX Audio announces NEW amplified subwoofer enclosures for CanAm Maverick and Commander models. The release adds even more variety to its already deep product line of UTV and side by side audio products.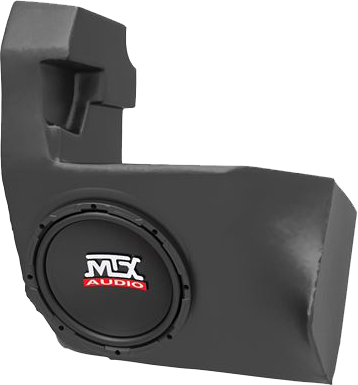 Building from its innovation in vehicle specific subwoofer enclosures with the ThunderForm line, MTX Audio applied the same expertise to these UTV specific subwoofer enclosures. The rotationally molded polyethylene enclosures are weather resistant and durable and include 10" weather resistant 250-watt RMS subwoofers and 250-watt Class D onboard amplifiers.
"The CANAM-10 is another example of our commitment to the powersports category," said National Sales Manager, Jason Fickas. "Our engineers have done a great job designing and developing these subwoofer enclosures which deliver the bass that every rider says is missing from their systems. Keeping the enclosures out of harms, way while not giving up any usable space, is really important to our customers and having the amplifier built in makes it easier to install and enjoy."
The CANAM-10 amplified subwoofer enclosure installs in about 30 minutes including the remote bass control. No cutting or drilling is required, the enclosure is hidden behind and protected by the dash.
CANAM-10 Fit Guide
| | | | | | |
| --- | --- | --- | --- | --- | --- |
| MODEL | 2012 | 2013 | 2014 | 2015 | 2016 |
| MAVERICK 2-DOOR | Yes | Yes | Yes | Yes | Yes |
| MAVERICK 4-DOOR | Yes | Yes | Yes | Yes | Yes |
| MAVERICK X3 | NA | NA | NA | NA | No |
| COMMANDER 2-DOOR | Yes | Yes | Yes | Yes | Yes |
| COMMANDER 4-DOOR | Yes | Yes | Yes | Yes | Yes |