LAS VEGAS, NV – JANUARY 6, 2015 – MTX Audio, of the MiTek Electronics and Communications Group, introduced a new all-weather, high performance tower speaker today at CES 2015, the WET8CWB, that is designed for high output and universal mounting with 350 degree swivel.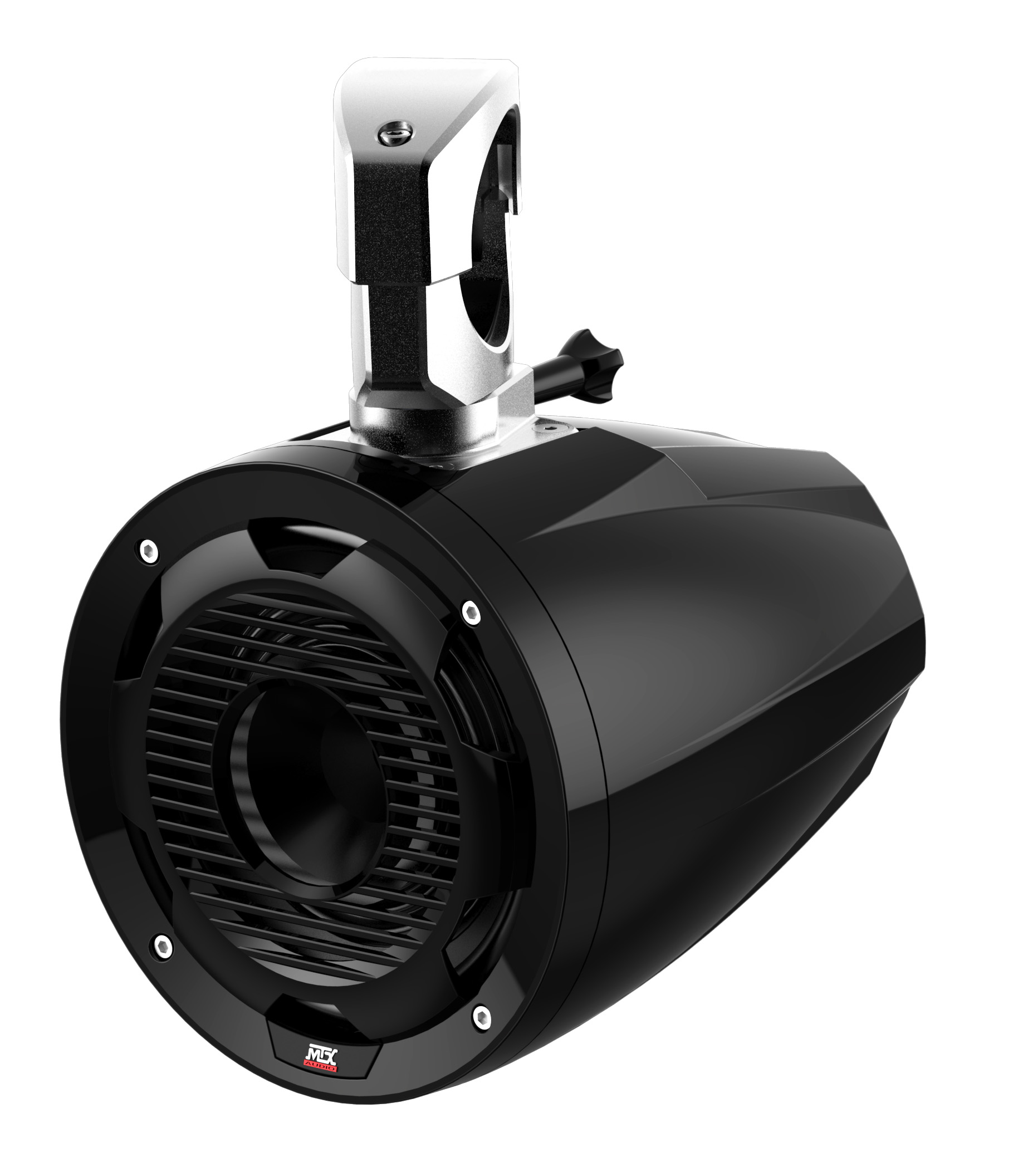 MTX WET8CWB 2-way Marine Speaker
The WET8CWB is a 2-way speaker that includes an 8" polypropylene woofer and 1" compression driver capable of handling up to 200-watts RMS/400-watts Peak. The entire enclosure is designed to withstand the toughest environments having passed ASTM testing for both moisture corrosion and UV resistance. The enclosure and grille are constructed of durable, UV and impact resistant ASA plastic that are finished in gloss black. The universal chrome mount can fit towers with diameters between 1.75" and 3". Additionally, each unit includes a down firing white LED dome light and red accent LEDs on the rear of the enclosure.
"If you've ever been wakeboarding 70' behind a boat you know how difficult it can be to hear the music from your tower speakers. This new compression driver makes all the difference in the world.," said National Sales Manager, Jason Fickas. The WET8CWB borrows technology from our sister company Atlas Sound, who has been manufacturing compression drivers for 50 years and dominates that industry. The swivel mount and integrated LEDs really tie it together as a complete package not only for the marine market but for the off-road segment as well."
Full details regarding this and other new solutions from MTX will be available at the MiTek Corporation booth, #2302 in the North Hall, at CES 2015. You can also contact MTX Audio directly at 1-800-CALL-MTX (225-5689).
ABOUT MTX AUDIO
MTX Audio is a family-owned, American manufacturer of high-performance car, marine, home, and street audio products. MTX is one of the leading companies in the mobile audio industry and builds innovative and easy to install products for the audio specialty dealers and consumers who are truly "serious about sound."®
For the latest news and information, please visit mtx.com.
FOR MORE INFORMATION, please contact:
Joe Trentacoste
MiTek Corporation