LAS VEGAS, NV – JANUARY 6, 2015 – MTX Audio, of the MiTek Electronics and Communications Group, today introduced a new universal mountable Bluetooth sound bar, the MUD6SPBT, designed for use on a variety of vehicles including ORV's, boats, and other vehicles with roll cages.
The MUD6SPBT features four (4) all-weather 3" full range drivers and two (2) all-weather 1" high frequency tweeters connected to an internal high efficiency power amplifier. Inputs include Bluetooth and external AUX input via 3.5mm. Large, glove friendly front panel buttons allow for easy adjustment while on the move. The included brackets allow for connection to roll cages with diameters from 1.25" to 2.25". An included wiring harness includes power, ground, and accessory wire for connection to the vehicle's audio system.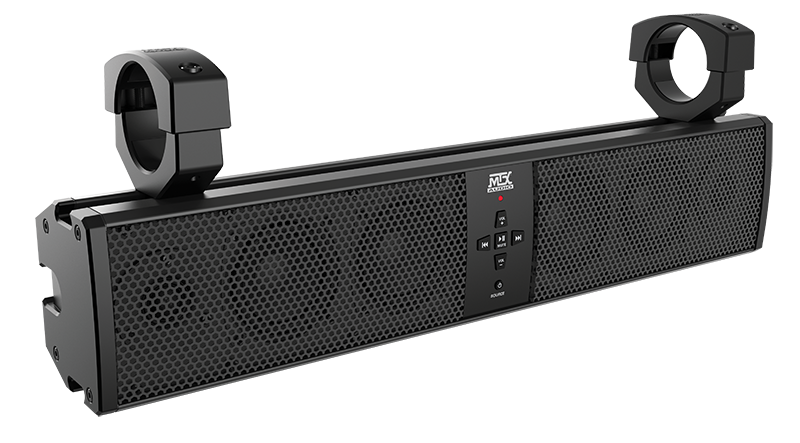 MTX MUD6SPBT Bluetooth Soundbar
"This is a really cool product that can be used with a variety of vehicles", said National Sales Manager Jason Fickas. "Customers today want products to be easy to use and that sound good. The MUD6SPBT fits that bill perfectly. Many 12-volt customers have ORVs or boats and a product like this gives our mobile audio retailers the opportunity to sell them additional products and installation to make their other vehicles sound as good as their primary vehicle."
Full details regarding this and other new solutions from MTX will be available at the MiTek Corporation booth at CES 2015, booth# 2302 in the North Hall. You can also contact MTX Audio directly at 1-800-CALL-MTX (225-5689).
ABOUT MTX AUDIO
MTX Audio is a family-owned, American manufacturer of high-performance car, marine, home, and street audio products. MTX is one of the leading companies in the mobile audio industry and builds innovative and easy to install products for the audio specialty dealers and consumers who are truly "serious about sound."®
For the latest news and information, please visit mtx.com.
FOR MORE INFORMATION, please contact:
Joe Trentacoste
MiTek Corporation