LAS VEGAS, NV – JANUARY 6, 2015 – MTX Audio, of the MiTek Electronics and Communications Group, today introduced a new Bluetooth remote control, the MUDBTRC, designed to allow Bluetooth music streaming from most Bluetooth enabled devices directly to an amplifier, eliminating the need to install a source unit.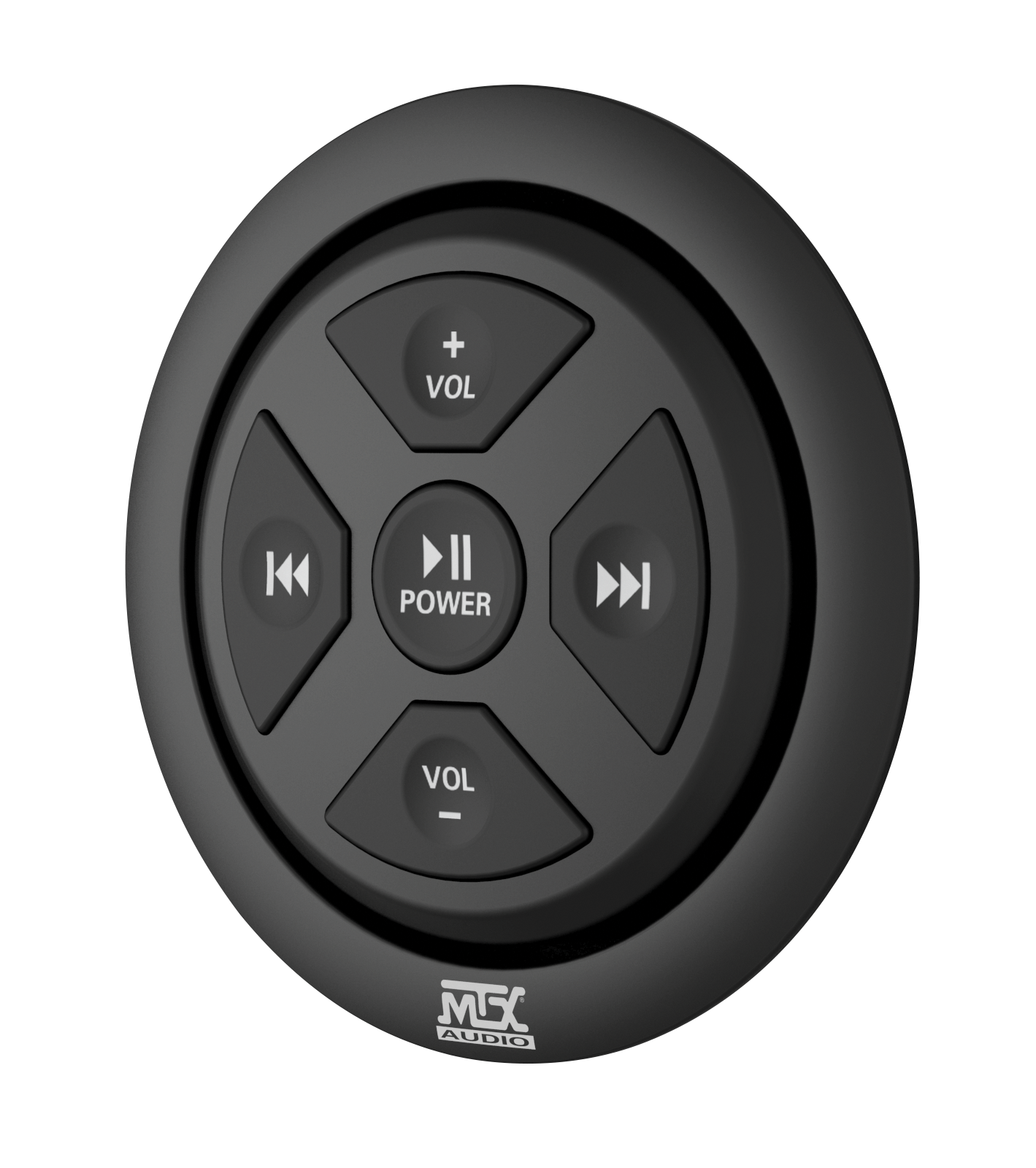 MTX MUDBTRC Bluetooth remote control
The MUDBTRC can be surface or flush mounted, allowing it to be used in cars, off-road vehicles, and boats additionally the included clamp mount enables it to be mounted to any vehicle with handlebars including motorcycles or ATVs. The entire unit is constructed using weather resistant materials that protect the electronics from dirt and moisture. The large buttons are easy to push and the included wiring harness includes power, ground, and remote output as well as a 3.5mm Auxiliary output for connecting the remote to the amplifier driving the system.
MTX MUDBTRC interfacing with smart phone
"Bluetooth is a very hot technology and consumers want to be able to play their music as easily as possible wherever they are", said National Sales Manager Jason Fickas. "The MUDBTRC allows our dealers to offer their customers an alternative to installing a head unit in their vehicle where there may not be room. It is very compact and easy to use and can be used in any vehicle with any amplifier."
Full details regarding this and other new solutions from MTX will be available at the MiTek Corporation booth at CES 2015, booth# 2302 in the North Hall. You can also contact MTX Audio directly at 1-800-CALL-MTX (225-5689).
ABOUT MTX AUDIO
MTX Audio is a family-owned, American manufacturer of high-performance car, marine, home, and street audio products. MTX is one of the leading companies in the mobile audio industry and builds innovative and easy to install products for the audio specialty dealers and consumers who are truly "serious about sound."®
For the latest news and information, please visit mtx.com.
FOR MORE INFORMATION, please contact:
Joe Trentacoste
MiTek Corporation