Phoenix, AZ – SEPTEMBER 15, 2015 – MTX Audio, of the MiTek Electronics and Communications Group, introduced a new handlebar mountable Bluetooth sound bar, the MUDHSB-B, designed for use on motorcycles and other vehicles with handlebars.
The all-in-one MUDHSB-B includes six total speakers, two 2" x 3" full range drivers and four 1" high frequency tweeters. All speakers are connected to an internal power amplifier that delivers all of the power you need to hear your music no matter how fast you ride.
The integrated Bluetooth receiver allows you to stream music directly from your smartphone or tablet or you can direct connect your device via an external 3.5mm input. Additionally, the unit includes a 3.5mm auxiliary output allowing you to integrate an external amplifier and subwoofer or other speakers for even greater sound coverage.
The unit features an all-weather design so you can rest assured that wherever you take it, your music can come with you. The universal mounting clamps can be used on a variety of handlebars. The MTX MUDHSB-B is compact enough to fit on any motorcycle but powerful enough to ensure you are heard wherever you go.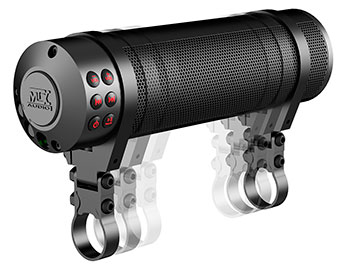 "The MUDHSB-B is another example of our commitment to design innovative powersports products.", said National Sales Manager Jason Fickas. "Like the rest of our MUD line, this was built with its environment in mind meaning it delivers crystal clear audio while doing 70mph on a bike. It's variable mounting solution provides a stylish yet solid installation for dozens of OE or custom bike applications while taking up a fraction of the space, we're already seeing them on quads and UTV's as well. Our installers worked from morning til night putting these on all sorts of bikes during our launch at the Sturgis Rally and what better crowd to validate a product, they loved it!"
The release of the MUDHSB-B Universal 6 Speaker All Weather Handlebar Sound System further increases the MTX Audio selection of motorcycle audio components offered in addition to the UTV / ATV motorsports audio selection and their long history as a manufacturer of a complete line of car audio subwoofers, speakers and amplifiers.
For full details regarding this and other new solutions from MTX, contact MTX Audio directly at 1-800-CALL-MTX (225-5689).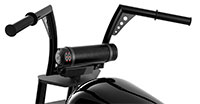 ABOUT MTX AUDIO
MTX Audio is a family-owned, American manufacturer of high-performance car, marine, home, and street audio products. MTX is one of the leading companies in the mobile audio industry and builds innovative and easy to install products for the audio specialty dealers and consumers who are truly "serious about sound."®
For the latest news and information, please visit mtx.com.