PHOENIX, AZ - MTX Audio, of the MiTek Electronics and Communications Group, today introduced the THUNDER Series custom audio speakers designed for in-wall and in-ceiling home theater and high fidelity audio applications. The THUNDER Series is defined by its high-end construction, impressive feature set, and unique flexibility make it a must have for any integrator, reseller, or distributor.
The THUNDER Series consists of four models, a 6.5", 6.5" with 15 degree angle, 8", and dual 6.5" LCR. Each model features Kevlar woofers and Teteron tweeters that deliver deep low frequencies and accurate high frequencies. Designed to be used in either in-wall or in-ceiling home theater applications with both round and square magnetic grilles included with all models except the LCR and with RMS power handling up to 150-watts, the THUNDER series is perfect for any high power home theater or music application. All models are available as single units making them even more appealing to integrators and distributors for installing 5-channel, 7-channel, and even 9-channel systems.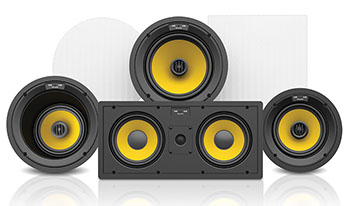 | | | |
| --- | --- | --- |
| Models Available | RMS Power | Frequency Response |
| T625CW | 100-Watts | 35Hz - 30kHz |
| T625ACW | 100-Watts | 35Hz - 30kHz |
| T825CW | 125-Watts | 31Hz - 30kHz |
| T265LCR | 150-Watts | 27Hz - 30kHz |
The THUNDER Series is the first new product we have released in several years for the custom installation market", said VP of Sales and Marketing Joe Trentacoste. "These new speakers were designed to meet the needs of our integrators with performance, profitability, and versatility as the three keys to their development. I am very excited to release at the CEDIA show and to show the industry how serious MTX is about the home installation market."
See all of the new products from MTX Audio at the CEDIA Expo in Dallas, TX October 15th-17th, 2015 in booth #2619.
ABOUT MTX AUDIO
MTX Audio is a family-owned, American manufacturer of high-performance car, marine, home, and street audio products. MTX is one of the leading companies in the mobile audio industry and builds innovative and easy to install products for the audio specialty dealers and consumers who are truly "serious about sound."®
For the latest news and information, please visit mtx.com.
FOR MORE INFORMATION, please contact:
Joe Trentacoste
Office: 602.438.4545
joe.trentacoste@mitekusa.com

##
©2015 Mitek Corporation. All rights reserved. MTX is a trademark of Mitek Corporation. All other trademarks are property of their respective owners.