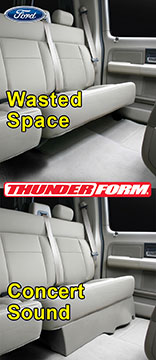 PHOENIX, AZ - MARCH 27, 2014 - MTX Audio, leading manufacturer of high performance car, home, marine/powersport, and personal audio for 40 years, today announced a Spring promotion on all Vehicle Specific Custom Enclosures, ThunderForms.
For a limited time, MTX offers 15% off the minimum retail price of all Thunderforms through May 31st, 2014.
For nearly 25 years, these high quality enclosures have been constructed in our Monroe, WI fabrication facility. Highly trained technicians use either a HDPE resin rotational molding or a hand laid fiberglass process to construct these lightweight and durable enclosures.
MTX offers customers a choice between three configurations for each model: amplified, loaded, or unloaded. Amplified models include an integrated high efficiency amplifier, custom subwoofer, and amplifier kit that deliver exceptional performance with easy installation. Loaded models include either a single or dual custom 4Ω subwoofer(s) that can be used with existing or upgraded amplifiers. Unloaded models work with most 10" or 12" subwoofers, depending on model. All models include mounting hardware making them easy to install and deliver a concert like experience without sacrificing space.
"Customers are looking for easy solutions that can be installed quickly and that don't sacrifice interior space and ThunderForms are the answer for both customer and dealers", said MTX National Sales Manager Jason Fickas. "MTX has been manufacturing ThunderForms for nearly 25 years and they continue to be an excellent way for dealers to address customer needs in the most efficient way possible. We continue to release new models that address popular vehicles and our three options give customers flexibility to get the exact solution that is right for them."
Contact MTX Audio directly at 1-800-CALL-MTX (225-5689) or via e-mail to learn more about MTX and to become a part of the Cloud Commerce revolution as a dealer.
MTX Audio is a family-owned, American manufacturer of high-performance car, marine, home, and street audio products. MTX is one of the leading companies in the mobile audio industry and builds innovative and easy to install products for the audio specialty dealers and consumers who are truly "Serious About Sound®."
##